Paradise is a place we can send you.
Come into any branch, Friday, Apr. 21st.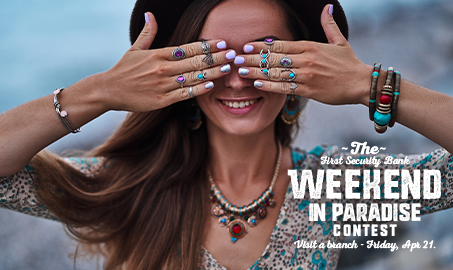 Wear the look, win the weekend.
Visit your nearby First Security Bank branch Friday, April 21st. Arrive decked out in your favorite Montana Natural - Boho - Western style look. When you do, you'll be eligible to enter for a chance to win a $750 Gift Card* good towards an enchanting stay at Quinn's Hot Springs Resort in Paradise, Montana, surrounded by soothing waters and local beauty.
No purchase necessary to enter. We'll be snapping photos to select a winner for the most creative Montana Natural - Boho - Western style outfit. Winners will be drawn on May 12, 2023.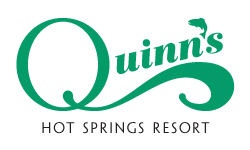 About Quinn's Hot Springs Resort.
Featuring two lodges and over 25 canyon and river-side cabins, they have something for everyone, from rustic to luxury, with a variety of accommodations suited for families and couples alike. Visit quinnshotsprings.com for more information. 
Totally Free Checking puts you in a blissful state of mind.
Our Personal Checking Accounts are as relaxed and carefree as can be. It's free from minimum balances and hidden weekly, monthly or annual fees. Open an account when you come in! We'll be snapping pix to select the winner.
Open an account and let your Free Checking flag fly! 
• FREE Standard Visa® Debit Card 
• FREE Online Banking & Bill Pay 
• FREE Mobile Banking with Mobile Check Deposit 
• FREE eStatements with Online Check Images 
• FREE Check Images with Statements 
• No Minimum Balance 
• No Monthly Service Charge 
• Unlimited Check Writing
Plus, when your new account is opened, we'll buy back your unused checks and debit cards from another bank or financial institution for $25.
*Your Gift Card may be available for a limited time. Please inquire with the vendor for specific expiration dates. 
No purchase necessary to enter. Giveaway does not include gratuity. The recipients of this Gift Card are responsible for gratuities. This Gift Card is not redeemable for cash or trade-in value. First Security Bank, a division of Glacier Bank Corporation will not be responsible for any loss of property, personal damage, or death in relation to this giveaway. Entrants must be 18 years old or older. The recipient of this giveaway will adhere to the policies set forth by specific vendors and venues and their policies as per their standard business practices. This contest will take place on Friday, April 21, 2023. The contest is subject to all federal, state, and local laws and regulations. First Security Bank employees and members of their households are not eligible to win the prize. By participating in the contest, entrants agree to be bound by these official rules. First Security Bank's decisions are final in all matters relating to this drawing. Winners will be drawn on May 12, 2023.
Our Totally Free Checking Account is a non-interest bearing account. Unless specified otherwise, customer purchases checks. Other fees such as overdraft, continuous overdraft, etc. may apply. See fee schedule for details. $25 for checks and debit cards from another financial institution. Your account will be credited at the time the checks/debit cards are presented. Bank rules and regulations apply.