Introducing CD specials with higher rates.
Rates are for a limited time only.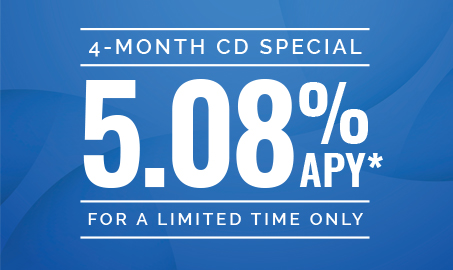 It's interesting times for interest rates. That's why First Security Bank is introducing some special options to make sure you're getting competitive returns on your money. Click here for our current rate sheet and compare. You'll see just how great these rates really are.
Special Certificates of Deposit (CDs)
Perfect for people who want a higher rate of return but don't want to tie their money up for an extended period of time. 
• 4-month CD with 5.08% APY* 
• 7-month CD with 4.03% APY* 
• 13-month CD with 3.50% APY*
Stop by any of our locations to open your new CD today! Or contact a Personal Banking team member at 406-728-3115.
At the end of the term, funds can be withdrawn or the CD can be converted. If converted, the special rate 4-month CD will be converted to a regular 3-month CD, the 7-month CE will be converted to a regular 6-month CD, and the 13-month CD will be converted to a regular 12-month CD.1 
Premier Savings and Premier Business Savings.
For customers with higher balances, we're offering special rates on the Premier Personal and Business Savings.² 
For balances up to $99,999.99, an interest rate offer .10% APY.*
For balances $100,000 and above, a special interest rate offer 3.00% APY.*
*Annual Percentage Yield. APY assumed that the principal will remain on deposit for the entire term.
1) $500 minimum required to open CD and obtain the stated APY. Penalty may be imposed for early withdrawal. Rate effective from date opened until maturity date. Fees may reduce earnings on account. 
2) A service charge of $2.00 will be imposed every month if the balance in the account falls below $100.00 any day of the month.