The Snow Bank Challenge
One day only, Friday, Jan. 27th.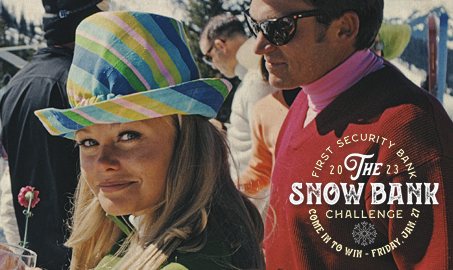 We've found a way to "lift" your post-holidays spirits.
Whether you're raiding your own wardrobe or hitting the thrift shop, it's time to put that retro ski attire to good use. 
Win a $1,200 Gift Card to The Lodge at Whitefish Lake*. 
Wear your finest vintage après-ski winter wear to a branch near you on Friday, Jan. 27th. We'll be snapping photos to decide who wins the award for the most creative, retro winter look. So, bust out your favorite puffy jacket, furry hat, mirrored goggles or neon onesie. Be sure to arrive dressed to impress!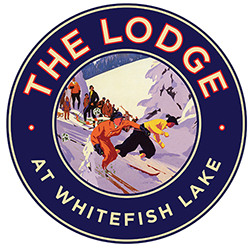 Don't have an account? Get a Totally Free Checking** Account while you're here. 
Where do you see yourself in the next decade or five? Whatever your vision may be, know that First Security Bank will be here to help you see it through. 
At First Security Bank, Totally Free Checking really is FREE! 
A free account for everyone! With no minimum balance or monthly service charge after opening your account.
Every new personal checking account includes:
• Unlimited Check Writing
• FREE Standard Visa Debit Card
• FREE Online Banking & Bill Pay
• FREE Mobile Banking with Mobile Check Deposit
• FREE eStatements with online check images
• FREE Check Images with statements
• FREE gift
• Buy-back of your unused checks and debit cards from another financial institution.
*Your Gift Card may be available for a limited time. Please inquire with the vendor for specifics on expiration dates. Giveaway does not include gratuity. The recipients of this Gift Card are responsible for gratuities. This Gift Card is not redeemable for cash or trade-in value. First Security Bank, a division of Glacier Bank Corporation will not be responsible for any loss of property, personal damage, or death in relation to this giveaway. The recipient of this giveaway will adhere to the policies set forth by specific vendors and venues and their policies as per their standard business practices. No purchase necessary to enter. This contest is open to First Security Bank customers and non-customers 18 years of age or older and only to legal U.S. residents. This contest will take place on Friday, January 27th, 2023. The contest is subject to all federal, state, and local laws and regulations. First Security Bank employees and members of their households are not eligible to win the prize. By participating in the contest, entrants agree to be bound by these official rules. First Security Bank's decisions are final in all matters relating to this drawing. Winners will be drawn in February, 2023.
**Our Totally Free Checking Account is a non-interest bearing account. Unless specified otherwise, customer purchases checks. Other fees such as overdraft, continuous overdraft, etc. may apply. See fee schedule for details. $25 for checks and debit cards from another financial institution. Your account will be credited at the time the checks/debit cards are presented. Free gift provided at the time of account opening. Ask us for details. Bank rules and regulations apply.