Business VISA®
Helping keep your business in the black.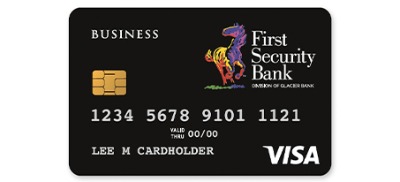 Comprehensive card management.
The security and access to customer service of your Business Edition VISA® Card is right at your fingertips. You can designate multiple Program Administrators to view transaction data, upload reports, order new cards, cancel cards, lock or unlock cards, manipulate cardholder credit limits and more, all
free of charge. Program Administrators can include assigned employees, and even your accountant if needed, to help manage the cards with a single login.
How this hardworking card works for you.
Get 1% back on all purchases. 
The Business Edition VISA® Card from First Security Bank gives card-holding businesses 1% back on all purchases, on all cards, regardless of the number of cards you have for your business. Your business earns points. Points can be redeemed for cash or rewards from large national retailers, as well as select local businesses - many that you likely already frequent. All cash and rewards are applied to the primary cardholder's account. Redemption is easy, and even better, it's free.
You have the control with online access.
You choose when and how many points to redeem for cash or rewards. You choose the account where cash back is electronically deposited.
Create an internal profit center. 
Points redeemed for cash back belong to your business. There is no tax liability on points, so it's a great way to maximize your profit by floating expenses for the monthly bills you're already paying.1
No annual fees or foreign transaction fees.
Most credit cards that offer cash back or points build those redemption costs into fees. Not so with the Business Edition VISA®  Payments Card from First Security Bank. In addition, there are no annual fees or foreign transaction fees. That's some pretty hefty earning power you can hold in your hand.
Using a Business Edition VISA® Card makes dollars and sense.
Prevent check fraud.
By limiting the number of checks written from your business account on a monthly basis, you're protecting yourself against check fraud. Checks are the easiest targets for fraud and once your account and routing numbers are compromised, you only have 24 hours to dispute a fraudulent check. With a payments card, you have 60 days to dispute a charge and zero liability2 on unauthorized charges from outside of the company.
Save money on checks.
Order fewer checks. Pay less for check stock. That's simple, but the cost of writing checks goes further than that. There's employee time in cutting checks, receiving dual approval, physically putting check in envelopes and of course postage. Plus there's waiting for the check to arrive, be deposited and clear. When it's all said and done a $5.00 check could cost your business up to $30.00. Who has the time or the money for that?
Built-in cash flow management.
Float expenses using your own money. Using a payments card with vendors can make a net 30 payment term into almost net 60 if needed, depending on when you pay your vendor and when your payments
card bill is due.
Let's get started.
It's time to maximize the financial performance of your business. Get your
new Business Edition VISA® Card* today.
Contact Phill Van Tassel to get started.
      Phone: 406-543-1331