My account. My anywhy.
Banking at the speed of you.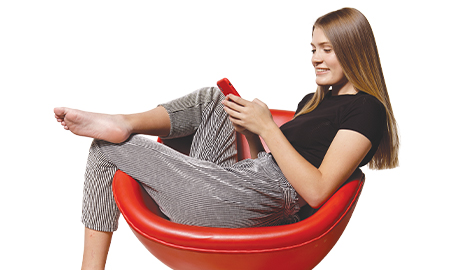 What's your anywhy?
Whether it's opening an account fast or funding your next adventure, we've got you covered. First Security Bank is the local service you want with the ease and simplicity that you need.
New or existing, customers can access our online account opening portal easily and securely. With all the time you'll save, you can focus more on what truly matters to you: your anywhy.
We have the accounts to fit your needs.
Totally Free Checking
With no minimum balance after opening or monthly service charges, this account is free for everyone.
50+ Interest Checking
A variable interest rate account, for those 50 wiser, with no minimum balance after opening or monthly services charges.
Easy Interest Checking
A variable interest rate account without minimum balance requirements or monthly service charges.
Premier Interest Checking
Looking to earn more? Maintain a balance of $1,500 or more to earn a higher variable interest rate. You'll continue to earn at a competitive rate even if your balance falls below $1,500.
Click here for more information on our checking accounts.
Savings Account
Save up for your next adventure with this personal account that offers interest on your balance.
Money Market
Want more from your savings? Get more with a money market account.
Click here for more information on our savings accounts.
Opening an online account is straightforward, anytime, anywhere.
To start, we just need some basic information: your address, a state issued form of identification, and social security number.

You can make a deposit immediately or choose to do it later. Whatever suits you best.

Look out for a confirmation email, and you're all set to manage your priorities.
All devices are welcome.
Who said managing your bank account has to be difficult? It's as simple everything else that you do on your
smartphone, tablet, laptop, or desktop computer. With us, you can take your banking wherever you go and always know your financial status. Use your mobile device on the go to check your daily balance, have access to online check images, and much more. Tap the app or click to begin.
Bid farewell to conventional banking.
Review balances and operations

Establish account notifications

Conduct transfers

Deposit checks via remote deposit
All of this, in the palm of your hand!
Once you're officially online, you're on the path to FREEdom.
Enjoy all the benefits our Totally Free Checking accounts provide:
FREE Standard VISA® Debit Card
FREE Internet Banking & Bill Payment
FREE Mobile Banking with Mobile Check Deposit
FREE eStatements with online check visuals
FREE Check visuals with statements.
We'll make it worth your while.
Switching from another bank or financial institution? Once you open your new account, we will purchase your unused checks and debit cards for $25.**
Secure. Safe.
We will never disclose your information to anyone, not even your own mother. At First Security Bank, we pride ourselves in keeping your a hard earned cash safe.
After all, Security is our middle name.
We use the latest tools and technology. Rest assured, your money is safe with us.
Change Makers for Good
Community is the thread that weaves all of us together. At First Security Bank, we believe in the power of community. We understand that our success intertwines with the well-being of the places we serve. That's why we actively participate in various groups and organizations that make a positive impact on our beloved corner of Montana.
How? We donate $10.00 to a local organization every time we open an account.
Personalized customer service is a key aspect of our anywhy.
Should you have any questions or worries, feel free to contact us. We're happy to help. Call us Monday through Friday, 8 a.m. to 5 p.m. at (406)728-3115 or drop by any of our locations.
*Please be sure the use one of the following browsers: Chrome, Firefox, or Safari. 

*Unless specified otherwise, customer purchases checks. Other fees such as overdraft, continuous overdraft, etc. may apply. See fee schedule for details.  $25 for checks and debit cards from another financial institution.  Your account will be credited at the time the checks/debit cards are presented.  Free gift provided at the time of account opening. Ask us for details.  Bank rules and regulations apply.