Keep your information safe.
Stop in for free document shredding.
Reduce clutter and help protect your personal and business information.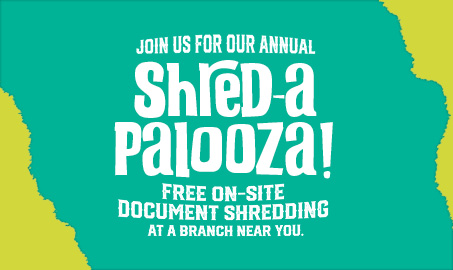 Missoula-September 29th:
9 am-12 pm at 3010 American Way, Missoula
and 1-4 pm at Southgate, 2601 Garfield St., Missoula
Ravalli County-October 6th:
9 am-12 pm at 100 W. Main St., Hamilton
and 1-4 pm at 318 W. Main St., Stevensville
Thompson Falls-October 13th:
9 am-12 pm at 107 S. Fulton St., Thompson Falls
Plains-October 13th:
1 pm-4 pm at 510 W. Railroad Ave., Plains
Know what to shred and when.
Most of us hold on to documents either way too long or not long enough. We can help. Use our guidelines
to keep documents only as long as you need them, so you can reduce clutter and protect your data.
Keep for one to three years.
• Paycheck stubs
• Bank statements
• Cancelled checks
Keep for at least seven years.
• State and federal income tax returns
• W-2s and 1099s
• Any receipts that were used as a tax deduction
• Charitable contribution receipts (keep with taxes)
• 401k statements
• Expired Insurance policies
• Expired leases or contracts
• Medical expenses (keep with taxes)
• The IRS recommends keeping tax-supporting documents for at least 6 years.
• An audit can be performed up to 6 years after filing if an error is suspected.
Keep these documents safe and sound forever.
• Birth and death certificates
• Marriage and divorce papers
• Passports
• Medical records
• Education records
• Life insurance policies
• Buy / Sell agreements
Note: The items listed above are to serve as a guideline only. First Security Bank does not offer legal or tax advice. If you have any questions pertaining to critical documents, you should review anything that may have tax or legal implications with your personal tax or legal advisor. All paper waste will be recycled.